Dr. Arunachalam
Dr D Arunachalam, Periodontics and Implantology
---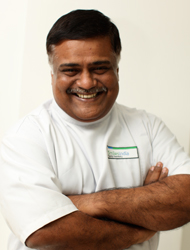 Dr D Arunachalam is a General Dentist and Specialist Periodontist with 28 years of service behind the smiles of his patients.
A gifted clinician , he has earned the respect of his patients and colleagues with his broad spectrum of clinical skills and is notably popular for his excellent chairside manner and empathy for his patients.
Having contributed as a much sought after Invited Speaker at several prestigious institutions and conferences both nationally and internationally.
Dr Arunachalam's practice walls are decked with certificates, honor mentions, citations, degrees and diplomas from institutions around the world, and they continue to add up year after year. His favorite areas of clinical interest are Dental Implants, Orthodontics and Cosmetic Dentistry.
A keen academician too, Dr Arunachalam has held the organizational positions as Professor and Head of the Department at major dental colleges and academies and also served as Principal and Dean . With presentations, patents and publications on Oral Medicine, Orthodontics, Periodontology and Implant Dentistry and Oral Rehabilitation, he has been instrumental in mentoring an army of dentists in India and abroad
In 2011 Dr Arun added another facet to his broad experience and skills with the degree of Master of Business Administration (MBA), from the College of Engineering Anna University, Chennai.
Dr Arunachalam says " Our staff at SmilesIndia Family Dentistry has been trained to render their techniques and talents to offer you a singular and skilled experience in high quality dentistry with exceptional knowhow and knowledge. With a passion for dentistry and dedication to clinical superiority and excellent customer service, we are a small group of ordinary individuals offering extraordinary service. I promise you the very best that SmilesIndia can offer. I welcome you as the Director of SmilesIndia Family Dentistry to enjoy a relaxed and rejuvenated approach to dentistry with skilled professionals who make you feel at ease in a sterile yet cheerful ambience"